In 2016 this restaurant in La Napoule had not only a change of crew
but also a complete interior and exterior refurbishment.
At the helm is a trio with very complementary skills, already highly experienced in the world of catering.
For Eric Chaumier, who is also the president of Fateo (union of retailers in the west of the department), his wife Cathy and former professional footballer Wilfried Gohel, this new adventure close to the Château de la Napoule was truly irresistible.
For an intimate dinner or a larger gathering

For birthdays, romantic dinners, business meals or simply meeting up with friends,
Le Boucanier welcomes you at lunchtime and in the evening, at the foot of the Château de la Napoule. Our chef's refined and creative cuisine will delight your eyes and your taste buds in a setting that is unique on the French Riviera.
For sharing tapas with friends

After the beach and shopping, it's time to relax… Enjoy the pleasure of sharing delicious tapas served with freshly made cocktails in an oasis of calm. Just a few metres from the seashore, you can admire the sunset over the Château de la Napoule…

This oasis of calm in the heat of the French Riviera welcomes you with your friends to a cosy lounge area during the day and in the evening.

Have you ever dreamed of watching your children build sandcastles at the foot of the Château de la Napoule under the southern sun while you savour delicious fresh fish dishes?
Take a seat at our single-level terrace or in the indoor dining room and you'll have a stunning view just a few metres from the beach.
We welcome you to our restaurant with a warm and friendly ambience on Mandelieu beach; we are particularly attentive to families and children.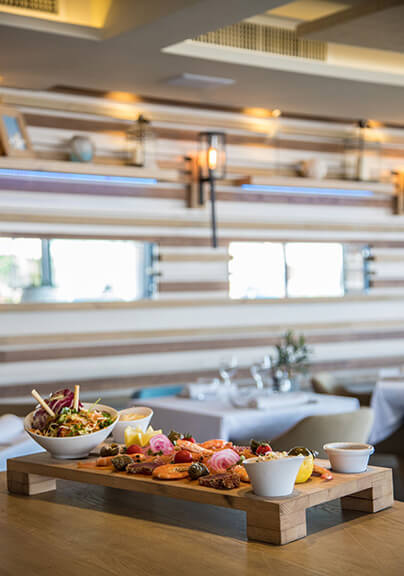 April to September
From Monday to Sunday
from 8.30 am to 11 pm
October to March
Closed on Sunday evening
and all day Tuesday